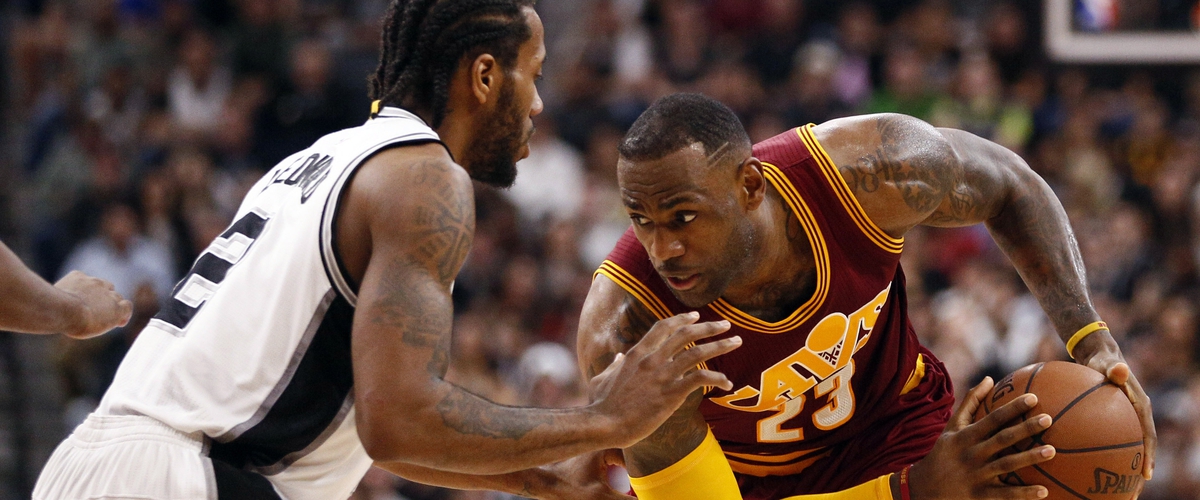 The NBA season is currently in full swing and while we still have a ways to go before free agency, it is never to early to speculate where players might end up specifically, if they hold superstar status. We witnessed first-hand how unpredictable the offseason can be with big moves such as Paul George, Carmelo Anthony, and Chris Paul all moving on from their respective organizations to form "super teams", in order to compete with the Goliath that is the Golden State Warriors. With "super teams" quickly becoming the new norm in the NBA, LeBron James is going to have to ditch the aging Cleveland Cavaliers once again, for a more superior team if he ever wants a chance to truly compete for a championship title. Many theorize that LeBron will take his talents to the west and play for the youthful Los Angeles Lakers, possibly joining Paul George in the process as well, however, if we are talking about his BEST chances of taking down the Warriors, one team in particular should come to mind and that team is, the San Antonio Spurs. Here are 3 key reasons why LeBron should strongly consider moving to the Alamo.
1. Gregg Popovich
The amount of respect LeBron has for coach Popovich is profound, as Lebron has said before that Pop is to him "the greatest NBA coach of all-time". Popovich throughout his career has had immense success during the regular season, posting an incredible win percentage of .695 as well as in the playoffs, having won 5 NBA championships during his time with the Spurs, 2 of those championships coming from the expense of LeBron James. What makes Pop so great, is his ability to get the absolute best from each and every player on his roster, turning ordinary into extraordinary through harsh, disciplined coaching. LeBron has never played for a coach like Popovich and at this point of his career, he can benefit greatly from one simple aspect that Popovich is known for which is, resting key players. We've seen it time and time again, the NBA commissioner fining Popovich for this action and even to this day, Popovich has outsmarted the NBA protocols by playing rusty players like Tony Parker, Gasol and Manu for limited minutes and benching them the rest of the game. LeBron would most likely not be limited as much however, even the Spurs biggest star, Kawhi Leonard, averaged 6 mins less per game last season than LeBron James, which is significant over time. This can benefit "the King" substantially because, for once in his career he won't be taxed with playing such high minutes as he is now (37.3 mins) and even possibly, extend LeBron's career further down the line.
2. Defensive Assets
Currently, the San Antonio Spurs rank 4th in the league in defensive efficiency (101.1) and mind you, this is without their best defender in Kawhi Leonard, who suffered an ankle injury during last year's conference finals. Meanwhile, the Cleveland Cavaliers are ranked in the bottom 10 of the league , posting a lowly 107.6 defensive efficiency. This number is understandable, as the Cavaliers lack any perimeter and interior defensive players, with Kyle Korver having the best defensive efficiency on the team per 20 mins, just let that sink in for a second. The Spurs, on the other hand, have great perimeter defenders in Danny Green, Kawhi Leonard and a budding Dejounte Murray. Having these kinds of pieces around LeBron would allow him to preserve some energy by not having to constantly guard the opposition's best player, for once in his career.
3. Less Animosity Compared to Last Time
Hatred probably doesn't mean much to the average player but to LeBron, it means alot. We remember the last time he left Cleveland; fans were burning jerseys , sending death threats and even the owner of the Cavaliers, Dan Gilbert, posted an open letter belittling LeBron. Certainly LeBron would not want that type of heat if he ever planned on leaving his hometown once again, and there are only a few teams in which it would be understable for LeBron to leave for, without erupting another riot. The San Antonio Spurs being one. The Spurs are one of the most respectable organizations within the NBA league mainly because, they tend to play fair and are extremely team oriented. Lamarcus Aldridge was the last all-star to sign with the Spurs after his tenure with the Portland Trail Blazers came to an end and while he was resented in his return to Portland, the majority of NBA fans did not mind the move overall. Part of this reason is because, the San Antonio Spurs are a small market team that often get overlooked due, to the lack of media coverage on the Spurs. Wherever LeBron goes that team will get attention regardless however, the Spurs have one of the less media market populations compared to every other NBA organization.
Will LeBron leave the Cleveland Cavaliers again? No one for sure knows as of right now, I don't even know if LeBron knows however, if he wants a legitimate shot at a title and/or build upon his legacy while playing for a functional organization, with great players, and a coach who LeBron reveres, the San Antonio Spurs are the number 1 option for "the King".
Feel free to comment on your opinion on where you think LeBron will end up!