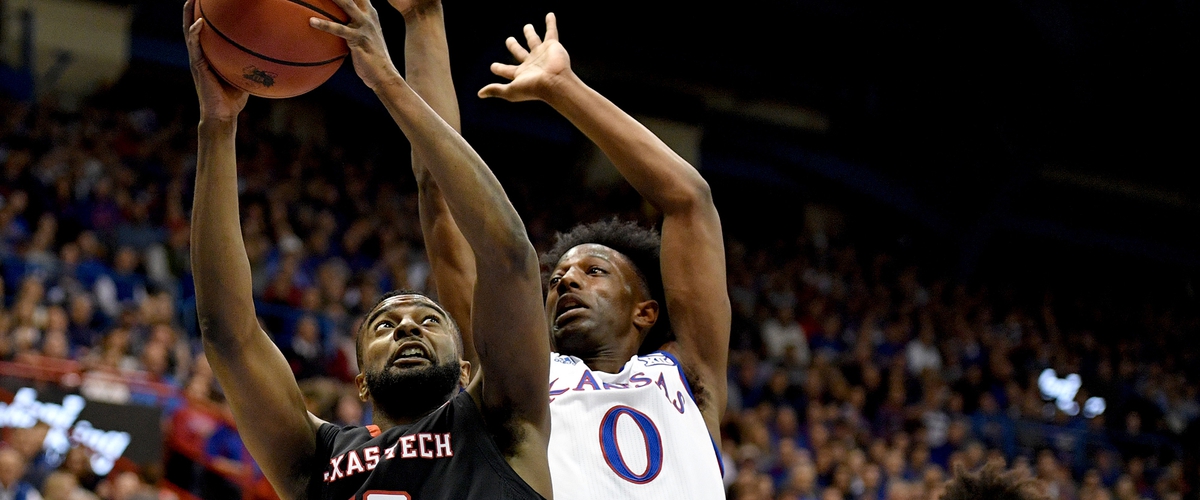 The Texas Tech Red Raiders stormed into Lawrence, Kansas and punched the Kansas Jayhawks right in the mouth. With no warning, no hello, the Red Raiders took what was theirs from Kansas in Allen Fieldhouse–the toughest place to play in college basketball.
Texas Tech was simply better tonight. They made more shots, they created more possessions, they lost fewer possessions, They got to the line more, and they shot at a better clip.
The Texas Tech Red Raiders did something, that many teams just do not do. They took on Kansas, rolled with the punches, and never let up. We all know the sayings about how hard it is to win in Allen Fieldhouse, against Bill Self, because "the refs" and "Kansas always goes on a run." The refs had no impact on this game. Kansas was called for one more personal foul than Tech, and Tech shot a pair more free throws more than Kansas. The Jayhawks however, did go on a run. The Jayhawks went on 4-or-5-runs. The problem was, unlike any other team, the Red Raiders rolled with the punches, and never gave up the lead. They continued to keep Kansas at an arm's length–maintaining an 9-or-10-point lead all game long. At times, the Jayhawks cut it to 7-even-6-points. The crowd got into it, and a sense of "Okay, here we go! This is the run!" crossed the minds of many. But with every chant, and every crowd eruption, Chris Beard's squad kept adding more steam, before eventually taking home a 85-73 victory.
For the Jayhawks, this game is worrisome. Two home losses before the calendar turns to Febuary–or even the second week of January, is almost unheard of under head coach Bill Self. There was no silver-lining this game, the Jayhawks simply got beat, in every single way. However, overall, there is still some silver-lining–but things have to fall perfectly for the Jayhawks, and they usually do.
Kansas was outrebounded 44-29. Forty-four, to twenty-nine. Adding Billy Preston, a 6-10 freshman forward, and Silvio De Sousa a 6-9 freshman forward, will help that rebounding differential and hopefully even swing it in Kansas' favor. The pair of forwards also provide relief for 7-0 center, Udoka Azubuike who is dealing with back issues. Both are waiting for clearance from the NCAA to rejoin the team.
On top of being outrebounded, the Jayhawks turned it over 5-more-times than the Red Raiders, and only had three players in double figures. The Red Raiders had five.
Devonte Graham turned in 27-points and 6-assists and actually drove to the basket a ton and in result drew fouls. Without question he is and was the Jayhawks best player.
The Jayhawks now have to travel to Fort Worth and take on TCU. A team coached by a hall-of-famer in Jamie Dixon. The 16th ranked horned frogs are coming off an 81-78 victory over the Baylor Bears. The Horned Frogs, have five players in double-figures, and another that turned in nine-points against Baylor. TCU had 34-rebounds. Thirty-four. The Jayhawks could be looking at back-to-back Big 12 losses.